I have found a great book called:  Beautiful Stuff Learning with found materials.  It is a great resource to get a collection of found materials started in your classroom and a great springboard to spark an inquiry or 2.
My finding came at a great time! We have been working on the reading strategy, making connections and many of my students could not remember a birthday or have never experienced one so my ECE partner and I decided to create one.  The students have been listening to Junie B. Jone stories all year so we wanted to have a birthday for our character.  We planned and touched on all aspect of a birthday.  The resource, Beautiful Stuff, became the "gift" the children would bring to the party.
The book begins discussing what recycled materials would be useful to collect from children's homes. Things like; paper, old jewellery, buttons, ribbons etc.  They bring them to school in a bag for exploring in small or large group.  The book explores the materials and shares the dialogue between teacher and students, tells about the sorting processing, and gives some great prompts to move the thinking and investigating along.  Other chapters discuss building with wood pieces, collaging, and various other ideas that could extend what you can do with all the found materials.
Our Beautiful Stuff has lead us into a Building Inquiry, an Art Inquiry, we have used the items to extend into our Math Focus and Fine Motor for sorting.  As well, building on oral language.
The found materials have now become my art centre.  The children initially sorted all the materials into baskets, trays etc.  Each day they can access the materials to create.  I may add new items, give a lesson about something new they can do with the materials, I added more popsicle sticks and large cardboard on day, another day I added the paint.  They tied it into our building inquiry.
Below are a few pictures of the children first exploring, then creating with the materials.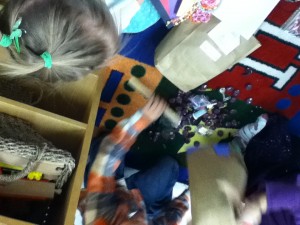 These children are showing what they have collected for the first time in small groups.
 This child created a house using the real wood pieces.  He is also drawing out the structure like an Architect. With adult assistance children are trying out real tools.
Below the children have creating pictures with the materials.

I came a cross a great idea using found materials.  You can collect and gather a variety of recycled objects from around your home or ask your students to bring in materials, but I just focused on collecting lids.  I have collected various sizes, colours, and shapes.  From the dollar store I purchased a large, shallow tray to gather all the objects and some circular cork boards for children to arrange their materials on.  Choose a space in your room to house the materials or display them on a table–tray in the middle and cork boards around to create an inviting space.  Allow children to create designs based on colour, shapes or other attributes and see where the discussion may go….
Picture to follow shortly….

Often we found that we needed to stimulate some conversation within the centres and to change things up from the typical blocks in our building centre, we brought in recylced materials.  We collected a variety of boxes, toilet paper rolls, and added some tape, crayons, and scissors.  We got some logs from the forest about 8 pieces that they would be able to carry easily.  We bought some reflective vests, PVC piping from the plumbing section of the hardware store and pylons from the gym. 
The look on their faces the very next day was priceless!  As the day progressed they creativity was truly coming to live and the oral conversations were great!  Later on we added some inspirational pictures and books of firefighters, buildings, and different modes of transportation.  This also lead us into creating moving vehicles in our art centre.  We created modes of transportation using recycled materials, straws, dowels, spools, etc.