Focusing on the classroom environment is important in engaging students.  It tells them what is valued, what is important in learning and it will certainly set a tone for learning.  As I return to my classroom I am reflecting on what has worked and what hasn't and other ways I can give students opportunities to learn new things. 
For example, more computer access to seek information on our inquiry projects, adding mirrors to our light table area, looking at my shelving space and how I can organized various materials to make things more appealing to my students, and creating more centres of inquiry.   With all this happening, how can I better assess my students through documentation.  I created a new form that my ECE partner and I can track conversations in a more organized fashion and we can simply slip the forms into portfolios as opposed to always typing the information out.  I also gathered more clipboards to have at each station and labelled these as our documentation boards.  
Here are a few photos of centre idea where children can be creative. 
This is a great little centre that focuses around found materials.  Students can develop their fine motor skills in connection to math or art.  The mats are earth tone in colour and are used as a different surface for children to create.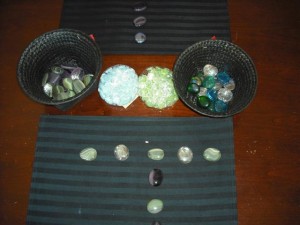 This centre idea uses material found at the dollar store.  There are jewels and stones of different colours that you can place in different baskets sorted by colour/shapes/size its up to you.  You can use placemats, black felt, photo frames that students can use to display their different art pieces.  Again, you can connect to math and a great oral language opportunity for the children.
Here are some pictures of one environment http://earlylearningcentral.ca/?page_id=2138 to get you thinking about your space.  Reflective Questions:  What do you do when the environment is not working for your students?  How can you place materials that will engage student learning?  How can I document student learning and display it?

Today I had an opportunity to read through some research on why documentation is important to student learning. In the attached article http://www.edu.gov.on.ca/eng/literacynumeracy/inspire/research/CBS_Pedagogical.pdf there is some great reference points about how students learn and think and how we as teachers extend our understanding of documentation as we discuss, share and collaborate with colleagues.  Another topic that was interesting was peer feedback.  I tried this informally late last year and when I felt they were ready.  I also tried a form of strengths and next steps (one star, one wish) in  my literacy assessment. It was a great opportunity to have a conversation about the student work.   Again, I did this in late February.  I was amazed at how they were able to share not only what they are good at, but where they need to improve!! 
Another important part that stood out the most for me was the accountability.  We are constantly defending the play-based learning approach to parents, the public and what better way to display learning through prompts, pictures, and questioning.  Display student work with their dialogue, questioning. Have their portfolios out and accessible for them to refer back to, display learning over time–history from previous years.  Create a communication board on inquiry and show students engaged in learning!      Have a read and enjoy!

When setting up your classroom environment for young learners, some key points to consider can be:
arrange materials, and learning centres, in a way that catches the children's attention and looks inviting to them
centres should be created to what the children are interested in
where in the room would be the best environment for that centre (ie:  should a reading centre be beside the door to your hallway where it can be busy and noisy?)
all materials should be in good working condition and safe for the children to use
is the centre set up to be child-directed, or will you have to be involved at all times?
try to incorporate natural materials
what the intentions for learning and experiencing are

Before school starts, educators go in to their classrooms to set up the environment.  Making a list of the centres you want in your classroom is a good place to start.  Then, you can look at the classroom and see where each centre you want will fit, and if it will work in your room.  Think about where you will need space for large group instruction times, and where in your room will suit small group activities.  Also, think about which centres will require a quiet area, such as a reading/book centre, and try to avoid putting those centres next to a centre that can become busy/noisy, such as a dramatic play centre.  The furniture that you will need for your centres will also need to be taken into account when setting up your classroom. 
An important aspect to chosing the learning centres you want at the beginning of a school year is to consider what they children will want to do.  Will the children want to begin with learning words from your word wall?  Or will they be more engaged in centres where they can be hands on?  Some suggestions for centres at the beginning of a school year are an open-ended art centre, sensory tables, blocks, dramatic play, etc…
Once the first day of school arrives, explain the centres briefly to the students.  Take them on a tour of the classroom so they can see what is available for them to play with.  When the children are engaged at the centres, circulate so that you can spend a few minutes with each child and get to know them a little bit and discover their individual interests.  This can also give you some insight into adjusts you may want to make to centres.  You can also model for children while you spend time at each centre.

Making the personal connection before school even begins may relieve some anxiety for those little ones entering a formal school setting for the first time.  Sending a hello note or a phone call to introduce yourself is a great way to break the ice. 
Myself and my ECE partner work together to create a JK handbook that informs parents about things like lunch/snack, clothing, communicating with notes, bookbag routines etc.  When they come for their first half day we discuss with parents all this information and answer any questions they may have.  Our board gives every new student a bookbag when they start JK. In this bag we place notes and reading books (started after Christmas) to ensure safe, dry delivery to home.  In the past I used very large ziplock bags with the child's name on the cover or you can also purchase nylon bags from the dollar store that are more durable.
Regular communication is important for parents and students.  The later part of this school year I changed how I prepared and presented my newsletters.  Firstly, have always sent my letters home in the form of a book  to encourage reading.  The material in the letters no longer tell what we will be doing in the classroom over the month or so, but what we have done in our inquiry projects with authentic pictures and kid writing.  I do however leave a very small space to inform parents of anything like fieldtrips, an important upcoming event, but the newsletter now reflects the students and what they find to be important learning in our classroom.  It is more work, but the students just love it and it gives me an opportunity to sit with children and ask them what they want to include.  It is a good time for me to reflect as an educator on what the children have enjoyed and remembered doing.

Different boards have different plans on how to introduce the new JK students into the classroom setting. Some have individual meetings with the child and parent(s) scheduledwithin the first 2 weeks and then they begin as a large group by the 3rd week of September.  Last year I had a straight JK class so we had groups of children of about 3-5 come to school with their parents on a scheduled morning.  As the children played, we discussed with parents our classroom routines, bookbags, notes and newsletters, snack/lunch, indoor shoes, busing, starting and ending times, pick-up policy etc.  Basically, everything we included in our JK handbook was reviewed with parents. Parents also appreciated this time because they were able to ask questions, hear others ideas/concerns/questions and meet other parents in a small, intimate setting and children met a few friends before they arrived on the very first day.
We had a school tour, we assigned them their locker space, walked through where buses drop off and how/where they would enter into our classroom etc.
This year with a JK/SK split our plan so far is to have the SKs come the first weeks with no JKs present so that we can reacquaintthem with rules, routines and get them comfortable.  Then start having the JK students coming the following week in small groups of (3-5) for an hour with their parents. SKs will be in centres as we discuss/talk to parents.

As we begin to prepare for the school year for our students, reviewing OSRs and FairStart files might be a great way to connect.  A few weeks before school starts I always like to send a little card in the mail to welcome them to school with a short little note attached.  Another ideas may be to call the home to say hello or to touch base.
Reviewing the OSRs would help to recall any personal information you may need to know like custody concerns, allergies, medical information, emergency information.  Some stuff my be documented in the office with the secretary, but I always like to have this information handy in my files as well for quick reference. As well, there is another set of eye looking over things just in case something was missed.
FairStart booklets may or may not have been completed early on in February.  It would be good to ensure all students have completed this process and to touch base with those who have not.  Another helpful piece of data to have is the print out of the scoring sheet once the Facilitator (SERT) has entered the information into the system.  It tells you what services the child has been recommended to if need be.  Again, it is helpful information to refer to especially when your begin assessments and need to have a handy cross-reference point.