Focusing on the classroom environment is important in engaging students.  It tells them what is valued, what is important in learning and it will certainly set a tone for learning.  As I return to my classroom I am reflecting on what has worked and what hasn't and other ways I can give students opportunities to learn new things. 
For example, more computer access to seek information on our inquiry projects, adding mirrors to our light table area, looking at my shelving space and how I can organized various materials to make things more appealing to my students, and creating more centres of inquiry.   With all this happening, how can I better assess my students through documentation.  I created a new form that my ECE partner and I can track conversations in a more organized fashion and we can simply slip the forms into portfolios as opposed to always typing the information out.  I also gathered more clipboards to have at each station and labelled these as our documentation boards.  
Here are a few photos of centre idea where children can be creative. 
This is a great little centre that focuses around found materials.  Students can develop their fine motor skills in connection to math or art.  The mats are earth tone in colour and are used as a different surface for children to create.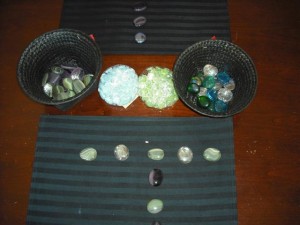 This centre idea uses material found at the dollar store.  There are jewels and stones of different colours that you can place in different baskets sorted by colour/shapes/size its up to you.  You can use placemats, black felt, photo frames that students can use to display their different art pieces.  Again, you can connect to math and a great oral language opportunity for the children.
Here are some pictures of one environment http://earlylearningcentral.ca/?page_id=2138 to get you thinking about your space.  Reflective Questions:  What do you do when the environment is not working for your students?  How can you place materials that will engage student learning?  How can I document student learning and display it?

This is a monograph about getting started with inquiry.  There is a list on the last page that gives 6 tips on how to get started with inquiry  http://www.edu.gov.on.ca/eng/literacynumeracy/inspire/research/CBS_StudentInquiry.pdf 
This great line….
Inquiry allows students to make decisions about their learning and to take responsibility for it.

As we get to know our students and document their learning, you will discover that every child will learn at their own pace.  In the Kindergarten program there is ample opportunity to differentiate instruction for children throughout the various centres and they can begin where they are comfortable. 
An example of differentiating instruction that was supportive in strengthening skills in literacy was to use visuals. When I chose my read aloud for the week, I ensured that when we discussed "characters"(for example) I had copied pictures either photocopied or in colour, I also included a drama piece when we focused on retelling the story.  When it came time to work one-on-one to test comprehension, I often used the pictures of the characters to help them.  Another idea that I also used was to photocopy 5 main parts of the story and have the children assemble it in order and orally tell me what they remembered from the story.
In looking at the environment of the classroom, surely posting up student work to display what they have learned makes them feel valued.  Posting pictures of the students while completing various tasks, displaying learning charts/anchor charts from the inquiry process with children's names next to their ideas, and having clear learning goals discussed and displayed in the centres helps guide learning in the classroom.  It also displays to parents what the children are learning.  The entire classroom environment sets the tone for learning and really shows what is valued and important.  In our school we have implemented a program called First Steps.  We talk about setting rules for circle time through simple songs, being respectful, and we centre on student strengths.  Attached is a great checklist to reflect on your classroom and school environment http://earlylearningcentral.ca/wp-content/uploads/2009/02/R-of-M-grade-1-creating-the-whole-school-learning-environemnt.pdf .  Reflecting the culture of your students into the classroom also provides a great learning point.  Since most of my students are from an aboriginal background we discuss the medicine wheel and how it ties into nature.  I have framed pictures of the students dancing in powwows, books and artifacts are displayed around the room.  Reading resources have been easily integrated into my reading program.  The use of visuals (pictures, book, artifacts)  have been introduced in my oral language groups as a starting point for discussions. 
If children have special needs, an IEP is a place where you would need to document specific learning instruction (accommodations)  that will best meet the students learning goals.  In Kindergarten, it starts with clear goals, visuals, and oral discussion for them to be successful.

Often we found that we needed to stimulate some conversation within the centres and to change things up from the typical blocks in our building centre, we brought in recylced materials.  We collected a variety of boxes, toilet paper rolls, and added some tape, crayons, and scissors.  We got some logs from the forest about 8 pieces that they would be able to carry easily.  We bought some reflective vests, PVC piping from the plumbing section of the hardware store and pylons from the gym. 
The look on their faces the very next day was priceless!  As the day progressed they creativity was truly coming to live and the oral conversations were great!  Later on we added some inspirational pictures and books of firefighters, buildings, and different modes of transportation.  This also lead us into creating moving vehicles in our art centre.  We created modes of transportation using recycled materials, straws, dowels, spools, etc.

In planning for children with special needs in your classroom, you may have to adapt your learning centres for students with special needs.  Important things to think about for any adaptations are:
safety – make sure areas are clear of barricades that might cause injury, or may block accessibility.  Also make sure materials are large enough that they cannot be swallowed.
space – is there a quiet area children can go to for rest, or if they become overwhelmed?  Ensure pathways are large enough for children with mobility issues or spatial needs.
access – if there is an entry/exit to the outdoors, ensure it is secure and can be locked so children can leave unsupervised.  Also ensure easy accessibility to all centres and materials within the classroom.  Think about height of materials, easy to open containers, etc..
materials – try to use materials that are child-friendly.  For example, board books are easier for children to use, especially those children with fine motor issues.  Having a variety of sensory materials available can make it easier for children who have sensory issues to become engaged.  Visual cues (pictures) assist children who may not be able to read.

As we begin to prepare for the school year for our students, reviewing OSRs and FairStart files might be a great way to connect.  A few weeks before school starts I always like to send a little card in the mail to welcome them to school with a short little note attached.  Another ideas may be to call the home to say hello or to touch base.
Reviewing the OSRs would help to recall any personal information you may need to know like custody concerns, allergies, medical information, emergency information.  Some stuff my be documented in the office with the secretary, but I always like to have this information handy in my files as well for quick reference. As well, there is another set of eye looking over things just in case something was missed.
FairStart booklets may or may not have been completed early on in February.  It would be good to ensure all students have completed this process and to touch base with those who have not.  Another helpful piece of data to have is the print out of the scoring sheet once the Facilitator (SERT) has entered the information into the system.  It tells you what services the child has been recommended to if need be.  Again, it is helpful information to refer to especially when your begin assessments and need to have a handy cross-reference point.

Every child can play. Every child has an imagination that can be an amazing guide to play. Some children play actively, while other children enjoy more quiet play. Children with special needs are no exception to this.
Adaptations to physical activities can be easily done. Provide large balls, hoops, and other oversized equipment outside or in a gym for visually challenged children. Provide large sticks of chalk for sidewalk drawing for children with fine motor difficulties. Provide tabletop activities for children who are in wheelchairs (marbles, create a garden), or have an easel outside.
Small adjustments can allow every child the opportunity for physical activity.

Every child has the right to play.  Every child deserves to play.  But not every child is capable of actively engaging, or enjoying play.
Adaptations are made for children with special needs in our schools' classrooms. Their desks may be lowered or raised to accommodate a wheelchair. A child may have a special cushion to sit on to help he/she sit still. Some children may have more time on computers as they learn more easily through technology. Teachers wear special microphones to accommodate students with hearing difficulties. These are only a few examples of how we assist the education of children.
But do we pay close attention to play for children with special needs? Or do we take it for granted that children instinctively can and will play when given the time and opportunity? And what about those children who do not have obvious needs?
Making small adjustments in a classroom, or at home are quite simple. It just takes a little time to observe children, learn what they may have difficulty with and then provide the appropriate changes or additions to play that may be necessary.  Set aside blocks of time to simply sit and watch your students, or children at home play.  Do they socially interact with other children, or adults while playing or do they play by themselves, seperated from others.  Do they get frustrated very quickly?  Do they actively engage in the activity?  Do they stay away from sensory activities (ie: water, sand, fingerpaint)?
There are several small adjustments that can help every child play and learn. Trial and error with different toys, times of day, length of play periods and even playmates may be necessary and may be a valuable learning experience for you, the adult.
Family physicians, special education teachers and community services are also valuable resources to use.
The most important things to remember are to observe children to learn what they might need, and to make adjustments so that every child can receive the most benefits that play has to offer.