Transition to Kindergarten
 "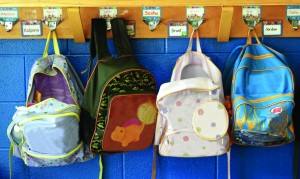 Entry to school represents a major threshold in a child's life. It marks an important transition into the formal education system at a critical age in early child development. Whether the child has remained at home until starting school or has participated in preschool programs, planning entry to school can support his or her long-term success. It can have a positive influence on a child's lifelong attitude towards school and on the child's development of literacy and numeracy skills." (Thinking it Through, Teaching and Learning in the Kindergarten Classroom).
Models of implementation
There are many models of implementation from across the province. You may find it helpful to have a look at Planning Entry to School (Ministry of Education, 2003).
For questions and considerations on planning entry to school, click here.
ETFO Resources
There is a Welcome to School resource package consisting of two posters and a language map available through our shopETFO website, as well as a Starting School brochure.
Rich Resource
The Learning Partnership has a resource-rich program called Welcome to Kindergarten (WTK) which was developed to provide pre-kindergarten children and their families with the early learning resources and experiences that can build a foundation for learning and a smooth transition to school. You can access this collection of resources here.