Planning Assessment for Learning
Assessment is part of learning and that means it's an ongoing part of every day.  Educators:
identify the purpose of assessment;

assist students in taking a proactive role in their learning;

align assessment strategies to learning goals.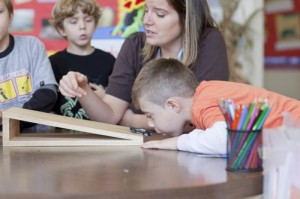 Diagnostic Assessment
"The purpose of diagnostic assessment is to determine students' strengths, learning needs, and interests in relation to the learning goals, which are being taught in a specific unit of study. Using diagnostic assessment effectively enables you to determine teaching entry points for every student. As a result of using effective diagnostic assessments, the teacher can immediately enter into the learning process with a specific focus for teaching and/or for intervention. Intervention can be most effective when it is timely and the student is searching for the next step in the process. Consequently, diagnostic assessment is a vital part of the learning process as it unfolds." (Learning Together: A Teachers' Guide to Combined Grades)
Policy Change
The government has issued Diagnostic Assessment Policy/Program Memorandum (PPM) 155 which provides direction to teachers, principals, and school board personnel about the use of diagnostic assessment. PPM 155 signals a fundamental change in the locus of control on the use of diagnostic assessments from school boards and principals to individual teachers. PPM 155 is available on the ETFO website in the Advice For Members section.
Assessment That Informs Instruction: ETFO Book Club
Want to spend time talking about assessment with your colleagues? You can access the Assessment That Informs Instruction ETFO Book Club Facilitator Guide on our website.
Lesson Plans for Planning Assessment
A number of lesson plan formats are available to support your planning for assessment from the ETFO publication, Learning Together: A Teachers' Guide to Combined Grades.
Subject-Specific Assessment
For some ideas on assessment in specific subject areas see assessing oral language and assessing physical activity.