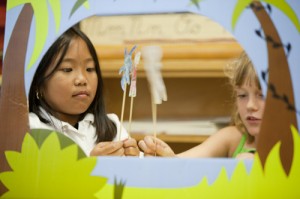 Engaging Students: Your classroom…time for joy, laughter, recognition, and celebration
"The more positive, enjoyable and supportive the experience, the more learners want to engage. Joy happens when educators and children share a funny story, when children select their pieces of art to hang in the "classroom gallery", when they dramatize a favourite poem for others, when they record all they have learned about making shadows and display this for others to read, and as educators and children observe and marvel at the wonders in nature."  (Thinking It Through: Teaching and Learning in the Classroom, page 10)
What is valued about learning in your classroom?

How are the children's needs, interests and background information taken into account within instruction?
Pathways for Academic Success
"The qualities developed through play are the same required to succeed in school. Children who enter grade one with strong oral communication skills are confident, able to make friends, are persistent, and creative in completing tasks and solving problems and are excited to learn, have pathways set for academic success."(Early Years Study, page 29)
See a New Look at Play for more information on types of play to engage students. Research shows that play is essential to learning;
Play expands intelligence;
Play allows children to apply new language and test the reasoning associated with literacy, math and science concepts;
Play stimulates the imagination and encourages creative problem-solving;
Play develops confidence, self-esteem, a realization of strengths and areas for improvement, and a positive attitude toward learning;
Play is a significant factor in brain and muscle development.
Take a New Look at Learning for your classroom.  You can engage students by providing an environment where they can:
Achieve their learning goals and be successful;
Connect to the teaching style the teacher is using;
Feel respected and safe;
Learn interpersonal skills from peers and also from teachers.