"Play nourishes every aspect of children's development-it forms the foundation of intellectual, social, physical, and emotional skills necessary for success in school and in life." 
 Canadian Council on Learning
Learning in Centres
When you introduce play as a means of learning in school, as educator, your role changes from instructor to facilitator.  As a facilitator, the teacher guides the learning which is different than controlling the learning. This is not a new idea. In fact, the teacher as facilitator is at the heart of the inquiry method promoted by Dewey half a century ago.
Child-Guided Experiences + Adult-Guided Experiences = Optimal Learning
As you think about your own role as a facilitator in the play-based learning in your classroom, have a look at the continuum from child to educator focused play in the classroom.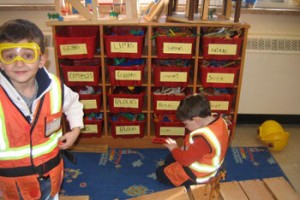 Learning at Home
The fall is a good time to get families involved to support children at home. For a listing of recommendations that will allow families to focus on learning areas see the attached Appendix.
Have a look at some of the following clippings from Primarily Play, and see what play can bring to your classroom!
Take a position on play
What is Play?
Making it happen in your classroom
Getting started with play
Playing is Learning
6 Responses to Playing is Learning