I have found a great book called:  Beautiful Stuff Learning with found materials.  It is a great resource to get a collection of found materials started in your classroom and a great springboard to spark an inquiry or 2.
My finding came at a great time! We have been working on the reading strategy, making connections and many of my students could not remember a birthday or have never experienced one so my ECE partner and I decided to create one.  The students have been listening to Junie B. Jone stories all year so we wanted to have a birthday for our character.  We planned and touched on all aspect of a birthday.  The resource, Beautiful Stuff, became the "gift" the children would bring to the party.
The book begins discussing what recycled materials would be useful to collect from children's homes. Things like; paper, old jewellery, buttons, ribbons etc.  They bring them to school in a bag for exploring in small or large group.  The book explores the materials and shares the dialogue between teacher and students, tells about the sorting processing, and gives some great prompts to move the thinking and investigating along.  Other chapters discuss building with wood pieces, collaging, and various other ideas that could extend what you can do with all the found materials.
Our Beautiful Stuff has lead us into a Building Inquiry, an Art Inquiry, we have used the items to extend into our Math Focus and Fine Motor for sorting.  As well, building on oral language.
The found materials have now become my art centre.  The children initially sorted all the materials into baskets, trays etc.  Each day they can access the materials to create.  I may add new items, give a lesson about something new they can do with the materials, I added more popsicle sticks and large cardboard on day, another day I added the paint.  They tied it into our building inquiry.
Below are a few pictures of the children first exploring, then creating with the materials.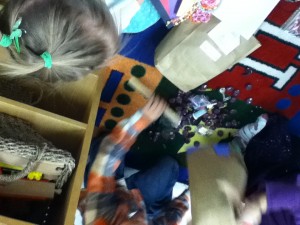 These children are showing what they have collected for the first time in small groups.
 This child created a house using the real wood pieces.  He is also drawing out the structure like an Architect. With adult assistance children are trying out real tools.
Below the children have creating pictures with the materials.